Exclusively for WEBCETERA Policy Management users, the EZLynx ACORD Form Creator helps working with digital documents become more efficient and less complicated.
To download the full PDF version of the newsletter, click here.
Working with digital documents has become frustrating and almost as much trouble as paper documents. We often end up with multiple versions of the same document saved in a dozen different folders on several different computers and a desktop cluttered with icons. We have various versions of PDF viewers installed, none of which seem to work.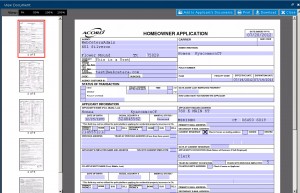 WEBCETERA Policy Management already makes it easy to upload and associate documents with each of your customers. Taking things even further, we've enhanced the functionality of the Document Center to give agents the ability to create new ACORD Forms for an applicant and then quickly edit, save, print, or download the document – all from within EZLynx! Documents are stored with each applicant, and an activity is logged when an action is taken so that you have a clear audit trail of the changes you or your employees have made.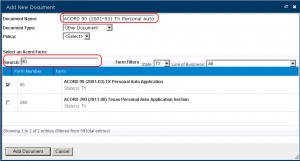 Creating new ACORD Forms in EZLynx is as simple as navigating to the Document Tab of your applicant and clicking the Add New Document button. From here you'll be able to search through the available Home and Auto ACORD Form library and select the document you need.
Newly created documents appear in the applicant's Document Library ready to be edited. Editing ACORD Forms is as easy as filling in the blanks. When editing a document, you have easy access to common functions such as Save, Print, Download, and Close.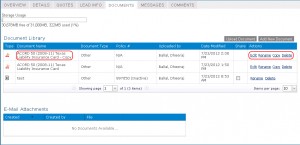 The Document Library also has full integration with our powerful Customer Self-Service feature. Provide your customers with the ability to login on your agency website, view their policy details, and upload documents securely rather than sending through email.
The ability to create, edit, and store ACORD Forms directly from within EZLynx helps to streamline daily workflows, lower operating costs, and bring independent agents one step closer to the goal of a paperless and sustainable workplace environment.
For more information about WEBCETERA Policy Management and the EZLynx ACORD Form Creator, email [email protected] or call 877-932-2382.