The Policy Compare feature makes it easy to compare two separate versions of the same policy or two separate policies of the same line of business. It works seamlessly for both Personal and Commercial Lines.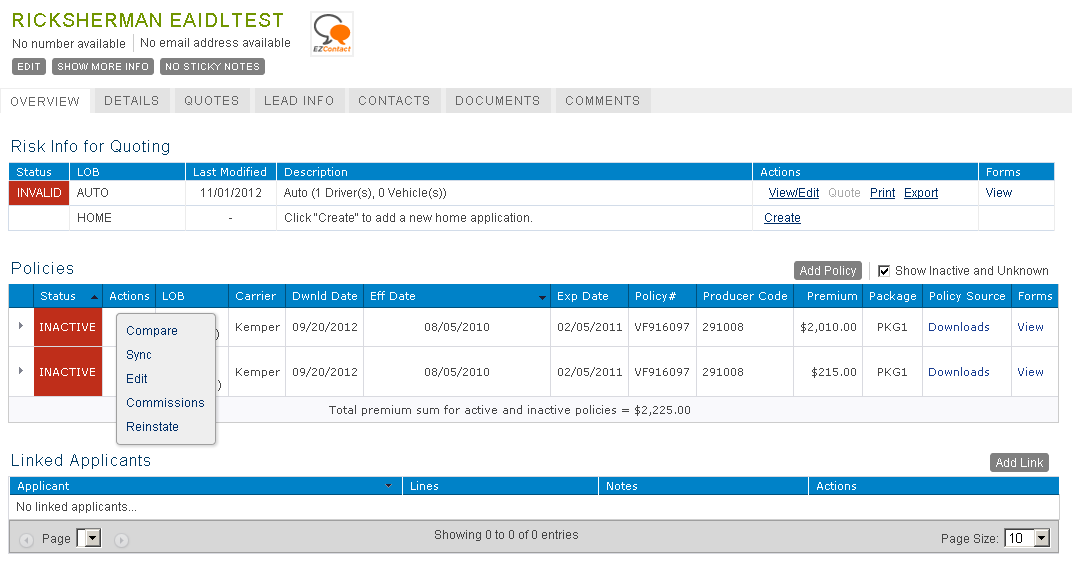 The Compare feature can be launched from the Actions menu on the Policy Grid for a particular applicant.  The feature will list all the differences between the two downloaded transaction versions.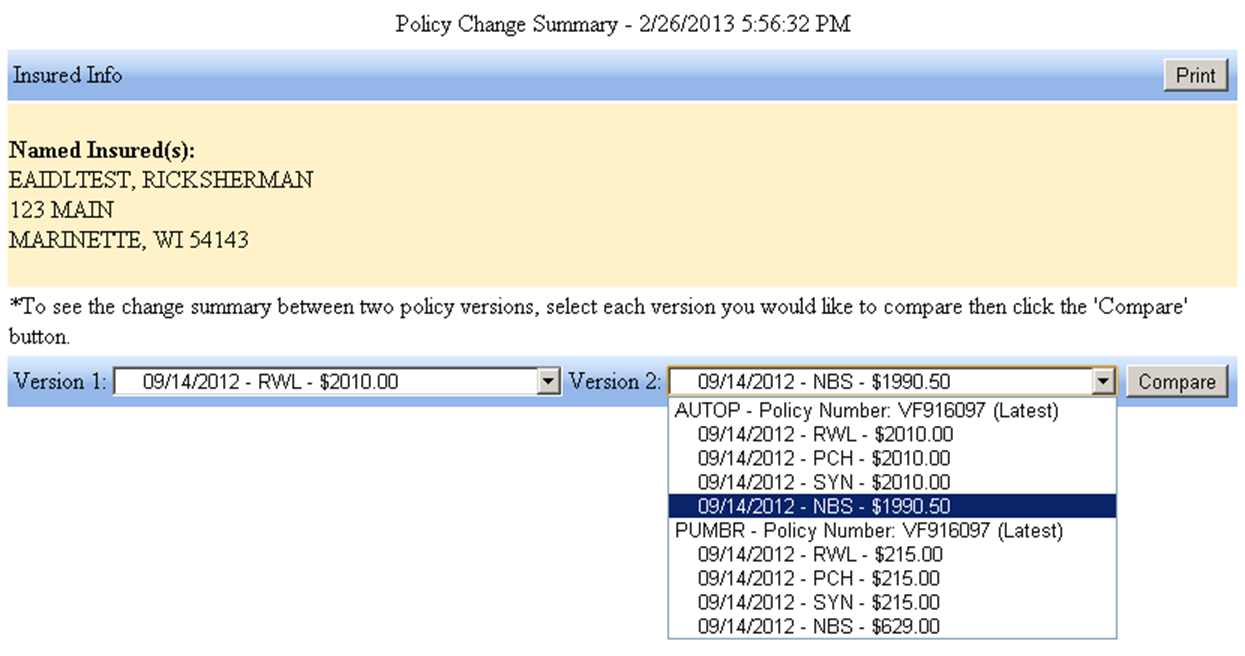 After selecting the two versions of the policy transactions you wish to compare, EZLynx generates a side by side summary of the differences between the two policies.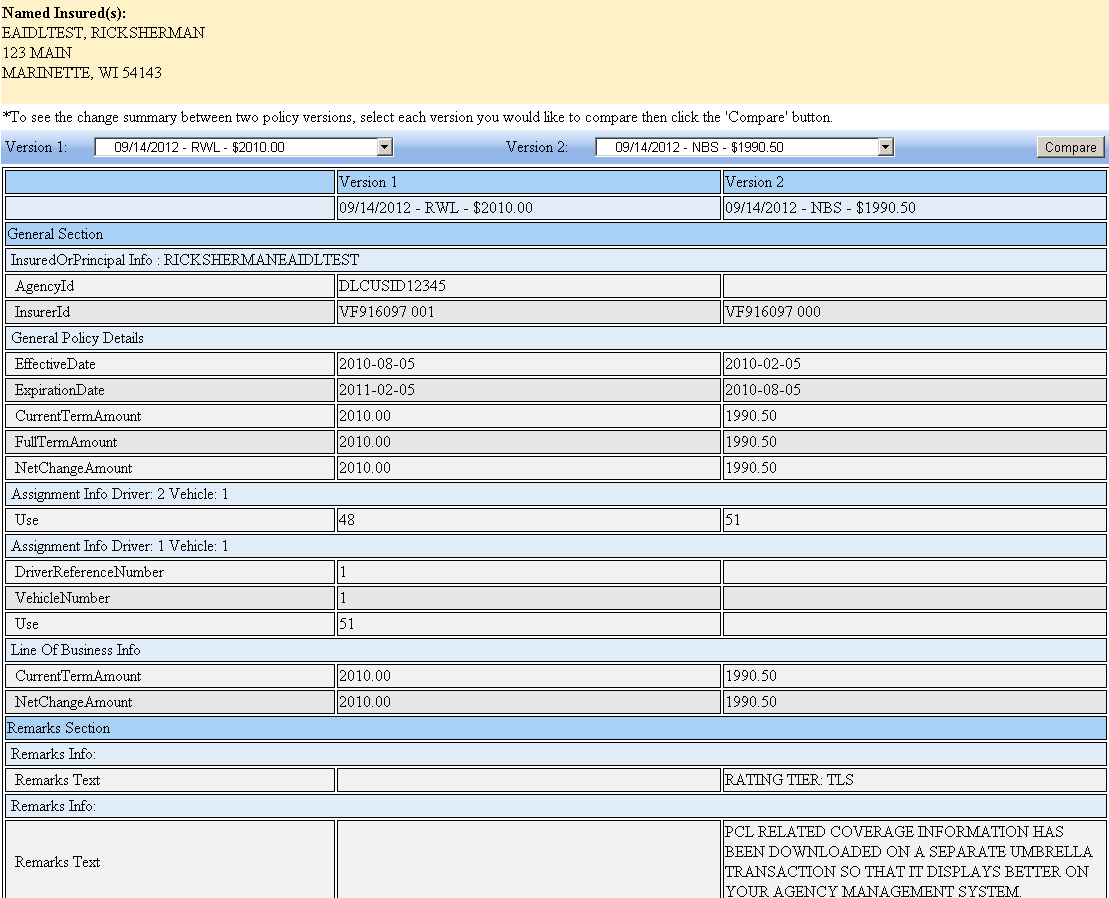 Sync Policy Download Data into an Applicant's Risk Information with EZLynx Management System
The Policy Sync feature allows you to import the data from a policy download transaction into the Risk information section for an Applicant in EZLynx.
The Sync feature can be accessed from the Actions menu on the Policy grid.
Policy Sync is available only for Auto, Home and Dwelling Fire Personal lines policies.
Only the data elements available in the download transaction and the Risk information screens on EZLynx will be transferred.
Applicant and Co-applicant information on the Applicant details tab will not be updated if the fields are already populated. Only missing details will be updated from data available from the policy download. This includes Names, DOBs, Gender, Marital Status, SSN, Contact Information and Addresses.
Accidents/Violations and Loss History information will not be updated.
Similar to Policy Compare, clicking on the Sync button under the Actions menu will do a comparison of the existing Risk Information data and what the data will look like after the sync has been performed. It allows you to review all the details that will be updated after the sync.
Learn more about EZLynx Management System and the full EZLynx Agency Suite at http://suites.ezlynx.com/
If you're ready to give EZLynx Rating Engine a try, sign up for a free trial at https://www.ezlynx.com/trial
---
Coming Soon: EZLynx Consumer Quoting mobile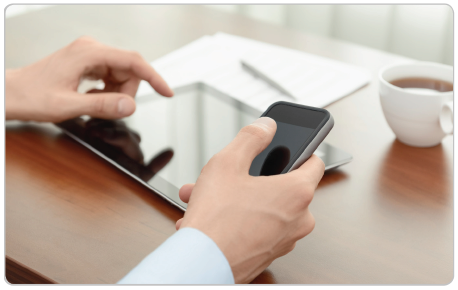 It's no secret that more consumers are using their mobile devices exclusively to browse the internet.  This presents a major problem for agents trying to generate leads online.  We are excited to announce our upcoming mobile version of EZLynx Consumer Quoting.
For agents that have the mobile feature enabled, EZLynx Consumer Quoting will detect if a consumer is accessing the portal from a mobile device and automatically switch to a mobile-optimized version, making it easy for consumers to complete a quote from their phone or tablet.  Watch for more announcements next month!
Learn more about EZLynx Consumer Quoting and EZLynx Agency Suites at http://suites.ezlynx.com/
If you're ready to give EZLynx Rating Engine a try, sign up for a free trial at https://www.ezlynx.com/trial
---