What's Your Carrier Pulse?
Do you know how often your home or auto quotes are the lowest for the agents in a particular state?
Well, now you will.  EZLynx Carrier Pulse is a monthly analytics report of aggregate data generated from your agencies' use of EZLynx Rating Engine accounts. This new report is designed to help you monitor your agencies' trends and analyze your system performance.
Do you ever wonder how your system's performance compares to other carriers' systems?

Well, now you will.  Not only do we provide your average response time to return quotes, we compare your time to the times of all the other carriers and provide a relative ranking.
Do you know how often your agents bridged from the rater to your policy issuing system?

Well, now you will.  For most of our carriers, we are able to track the times an agent is directed to a particular quote in your system to finalize the rate.
Carrier Pulse is packed full of key performance indicators such as:
Number of times a particular prospect is rated and subsequently re-rated
Number of unsuccessful quotes, and why they were unsuccessful
Your response time to return quotes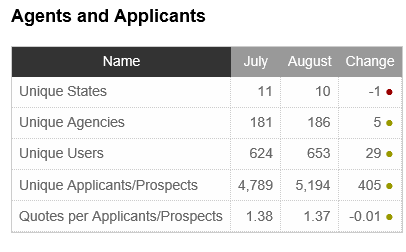 Additionally, Carrier Pulse analyzes trends from the prior month, including statistics such as:
Number of states quoted
Number of agencies who quoted
Number of users who quoted
Number of unique prospects quoted
In addition to summary data, Carrier Pulse provides the details of each quote attempted during the month. This is a great way to identify unsuccessful quote trends.
For more information, please contact our carrier team.