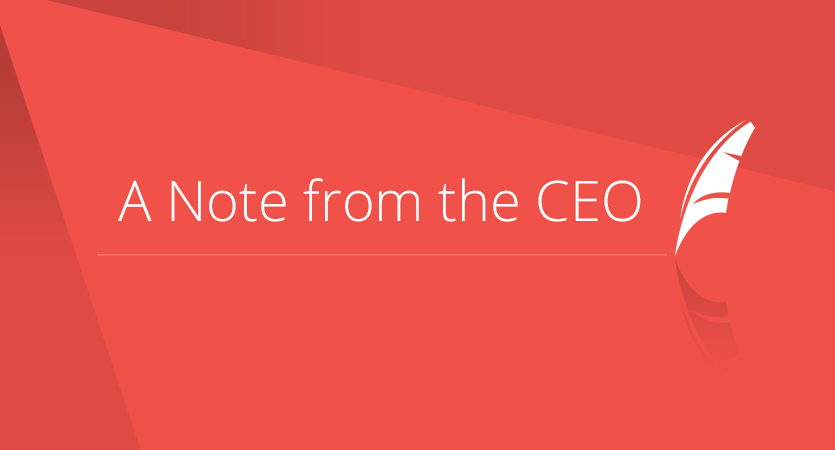 Happy New Year! It looks like 2018 is going to be another good year for our industry. It is our feeling that independent agents have been well positioned in the market for more than a decade now. Our industry's business model of offering 'choice of carrier' to consumers is both internet and millennial friendly. We believe our industry will continue to gain market share because of this one single factor.
I want to thank our customers who have supported our products through the years and our many new customers who joined us in 2017. Outlining the roadmap at the beginning of the year is a tradition that we started many years ago, and it seems the competition has followed our lead – I have seen several other management and rating system vendor CEOs do the same. It is inspiring to see the impact that our vision and strategic thinking has had on our industry, especially with our competition!
2017 has been another banner year for us as we once again expanded our market share. We are looking forward to another great year. As long as we continue to work towards your best interests, we will all win.
Agency profitability, productivity, and serviceability were the key focus areas in 2017. In the spirit of productivity and serviceability we enhanced our management system product throughout the year. Many of these enhancements were in direct response to your feedback. We introduced several new and exciting features in 2017, including claim downloads, policy change requests, enhanced reporting & analytics, and postal mail integration.  Claim downloads and the policy change request feature directly affect how you service your customers. I am particularly proud of my team's effort with the policy change request feature, which allows the agent to capture all the necessary information and submit it to the carrier for finalization in a single workflow. As part of this workflow you can highlight and submit only the parts of the policy that will be changed to avoid any mistakes. This feature is priceless when it comes to change management with commercial policies where any mistake can be costly.
Our new postal mail integration is another one of my favorite features released last year. Agents are already using it heavily to mail important policy documents, policy notifications, welcome letters, and other documents to their policy holders or prospects with a few clicks of a button. It's a great productivity enhancing feature that can save time and money.
We made several big enhancements to other areas of our product including reporting, policy accounting, agency workspace, and more. You can view our past release notes for more details on these features.
One of the big promises I made in 2017 was to focus on agency automation. We delivered a beta version of this feature in the second half of 2017. EZLynx Automation Center lets you define rules to perform certain actions based on policy events. In its first iteration, we limited the support to a handful of pre-defined events with simple email and task related actions. We have received excellent feedback from our beta participants, and we are excited to unveil some exciting new enhancements at our AgentLynx User Conference in March. It is our intention to robustly expand this feature with support for more events, actions, and more complex, condition-based workflows. EZLynx Automation Center will soon become the glue that integrates all our products and features together and drastically improves your productivity in incredible ways.
Roadmap for 2018
Our AgentLynx User Conference will be in San Diego this year on March 12 – 14. I strongly urge all of our customers to attend this exciting event if you are serious about building your agency around EZLynx. I promise you this is not about sales or marketing, but about technology, insurance, and maximizing your potential as independent agents. We will be introducing several new and cool products this year that my team has been working on for months now. You will also be able to speak directly with our Executive Team, Product Managers, Business Analysts, and select staff from our Product Support and Training Teams. The conference is just a few months away, so don't wait to reserve your spot!
As for the rest of the year, we have a busy schedule ahead of us. We will continue to enhance our policy management system to round out more of our commercial features. One feature that I am excited about is Policy Transaction Editing. As most of you know, the dataset that we get from carriers through the download is inconsistent and sometimes wrong. Using this feature, you can control how you manage these inconsistencies by using a set of 'crowd' or user defined rules. Our goal is to reduce errors and also to make the download processing and matching effortless.
This year we will also officially release Automation Center, as well as expand it to include integration with our products like Sales Center, Retention Center, Policy Accounting, and more. It is our goal to let agents automate the daily important, but mundane, tasks that a computer can easily perform.
We have several new "secret" features for 2018 that we are excited to reveal at our AgentLynx User Conference, including our plans to refresh the look and feel of EZLynx with a new, modern interface. I want to end this note leaving you with the same impression as I always do – that EZLynx is dedicated to making you successful. We are constantly working on your behalf and watching out for market changes to make sure you are covered. We've got your back.
Please do not hesitate to contact me with any questions or comments.
-Nag Rao, CEO