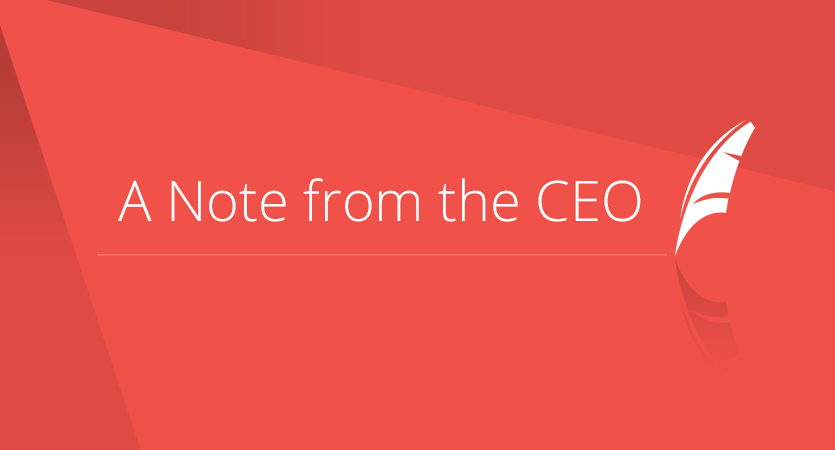 Happy New Year! I hope you all had a fantastic 2016! Based on the results of our annual customer survey, it seems you did – and we're ready to help make 2017 even better.
The biggest highlight of 2016 for EZLynx came in October when we hosted our first AgentLynx User Conference in Dallas. Thank You to everyone that was able to attend! We had good participation from our agents and all our product sessions were extremely well attended. For me personally it was great to meet our customers face-to-face and listen to their feedback about our products. We are looking forward to the next AgentLynx User Conference to be held in San Diego sometime in March/April of 2018. Please be sure to register as soon as we make our announcement because we will be limiting the number of attendees.
EZLynx continues to make big strides in the industry. EZLynx was again acknowledged as the fastest growing management system vendor and is now the third biggest vendor behind Vertafore and Applied, according to the Big "I" and Future One 2016 Agency Universe study. More amazingly, our market share with EZLynx Rating Engine has continued to grow and is now a dominant number one in the market. I want to personally thank all our customers who chose EZLynx over other products and also enthusiastically responded to these industry surveys. I can assure you without your support EZLynx would not be the product it is today. Thanks once again from all of our employees.
We made some big new product announcements at AgentLynx 2016 – EZLynx Sales Center and an Amazon Alexa skill for agency owners. EZLynx Sales Center is an add-on product that lets agents manage their prospects and opportunities during the sales process. Similar to Retention Center, it is a highly optimized tool that helps keep all the information about your prospects at your fingertips. Sales Center has fantastic metrics with sales performance dashboards customized for each user. Sales Center will continue to evolve in 2017 with more features in the pipeline to include support for lead generator integration, EZLynx Consumer Quoting integration, custom fields, and more management reporting options. Please contact our sales team if you are interested in learning more about this innovative product.
Our Amazon Alexa skill started out as a playful experiment amongst our development team but soon turned out to be something bigger. We are fully committed to enhancing this app in the future based on your feedback. Alexa employs state of the art speech processing technology to parse your voice commands and provide meaningful responses. To be honest, Alexa is addictive and full of surprises once you start using it. I encourage our management system users to give our Alexa skill a try by searching for EZLynx from the Alexa app on your mobile device. Please note you do need to purchase an Alexa device from Amazon to be able to use this feature. Keep watching for more Alexa integrations in 2017!
I would like to quickly review what I outlined in my 2016 New Year's article and update you on our progress. I made a promise to deliver a single platform customer lifecycle solution that can solve the challenges faced by our agents. Sales Center is an outstanding example of this. We realize how challenging the sales process can be, especially if you have multiple employees selling with different customer touch points. Sales Center centralizes all the activities under one screen and keeps all your employees on the same page. If you are an agency owner or a sales manager, it offers great reports and dashboards to monitor the performance of your team.
I also promised to make improvements to EZLynx Management System in 2016. We worked hard to build commercial features like manual policy data entry, quote proposals, applications, and ACORD® form support. We still have a few more commercial lines yet to support, but I expect to complete all lines by the end of 2017's second quarter.
We made various other management system improvements with agency workspace, document management, and reporting that are too many to list.
EZLynx Accounting was seriously upgraded in 2016. We now have full support for branch accounting with integrated GL support for QuickBooks online.
If you are one of those rating customers waiting for our management system to fully mature, this may be the time. We have a solid data conversion team that will work with you to move your current policy data to EZLynx from more than 25 different management systems in less than 10 weeks. Please contact our sales team for more information. I can assure you that you will not regret your decision to move to EZLynx Management System!
I also promised to improve EZLynx Communication Center in 2016 with enhancements to Email Campaigns. You can now leverage our robust reporting feature by using your saved reports for bulk email blasts. Our reports allow you to create highly targeted upsell/cross-sell campaigns, and in turn, generate more leads from your existing customer data. We also added Custom Domains to help reduce spam blocking and to increase email open rate. Simply validate the domain that you use for email and our system will be able to send emails out on your behalf rather than under our own domain.
EZLynx Client Center was another product that I promised to improve in 2016. We have upgraded the user interface with a clean, modern look that is fully mobile responsive so that it behaves the same on any screen size. We also added support for commercial clients to add their own certificate holders and generate new certificates from within Client Center. This feature will let you offload some of this work to your customers while still allowing you to retain control over who gets access.
Looking Ahead…
Agency profitability, productivity, and serviceability have always been our focus areas. Beginning in 2017, agency automation is our new target area. We believe our users can experience significant gains in all levels of profitability, productivity, and serviceability by using system data to intelligently automate actions. We have exciting plans to make this happen with new EZLynx tools!
One goal of this type of automation is to allow you and your employees to focus more time on revenue-generating tasks. Through data analytics and business intelligence we feel confident that many of these processes can be automated without degrading the customer service experience. To the contrary, we believe this will actually improve the customer experience in the long run.
Our relentless focus on enhancing EZLynx Management System continues in 2017. We are already hard at work on enhancing commercial support, advanced accounting features, and much more. MAPs, or Market Access Providers, are another focus area for us in 2017. EZLynx Rating Engine is already the best rating product for this market with its built-in messaging and private carrier support. We plan to enhance some of these features to add support for policy management and policy servicing.
While I do not want to reveal the full scope of our Roadmap for competitive reasons, make no mistake that we have a vision for 2017 and beyond to make EZLynx the ultimate solution for independent agents.
I hope you have another prosperous year with EZLynx!