According to one study, almost 50% of consumers will make a purchase next year as a result of a marketing email.  EZLynx Drip Campaigns makes it easy for our users to put individual applicants on long term, multi-step email campaigns, but we know that it is also important to be able to send out bulk campaigns to targeted groups of people.  After all, if you're reading this article, you are probably here as a result of our own bulk email blast. EZLynx Bulk Campaigns, the perfect companion to EZLynx Drip Campaigns, is here to help make the task of marketing and communicating with your prospects and customers in EZLynx even easier!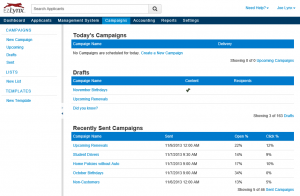 You have a lot of valuable consumer information in your EZLynx account. Aside from the typical data such as names, addresses, and emails, you also have some unique policy and coverage data. Agents need an easy way to tap into this powerful data in order to send intelligent, revenue-producing emails to their consumers. EZLynx Bulk Campaigns, available through the EZLynx Marketplace, will do just that.
Our primary focus as we started to build EZLynx Bulk Campaigns was the list-building capabilities. We know this is essential to agents when preparing bulk email blasts. Specifically, this new tool allows you to filter the entirety of your EZLynx consumer data based on some very specific criteria, such as age, marital status, line of business, expiration date, annualized premium, carrier, and more.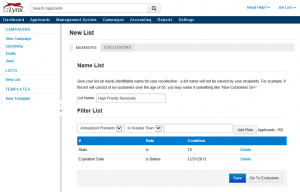 These advanced filters allow your agency to send out highly targeted email campaigns to help your agency grow and retain business. For example, with EZLynx Bulk Campaigns, you will be able to build a list of your personal home clients whose policies will expire in three months and don't have an auto policy with your agency. Want to narrow your results even more? You can also filter your list to target only those clients whose current policy falls within a certain annual premium. Or, to send an email to all of your commercial policy customers that don't have their personal coverage with your agency, simply add two filters and you're ready to go.
The goal of the list building tool in EZLynx Bulk Campaigns is to simplify sending the right email campaigns for your agency's needs, because the more targeted your marketing efforts are, the more effective they will be.

Once you've built the list, starting a new campaign is easy. Simply give your campaign a name, subject, and set the reply-to address to get started. Then, select the template and one of the lists you created. All that's left to do at this point is fill in the email content. We've built in customization tags so you can make your emails as personalized and targeted as possible. For example, you can dynamically include the consumer's information in the email, such as their first name, and the system will automatically fill in those values before it is sent to each individual recipient. You will be able to schedule the campaign to go out immediately, or set it to go out at a future date and time. This allows you to plan ahead with your email marketing strategy.
This first release of EZLynx Bulk Campaigns is only the beginning. Additional templates, new ways to filter your consumer data, and more powerful ways to customize and personalize the emails that you send are already being planned!
Sign up here to get started with EZLynx Bulk Campaigns and find out how EZLynx can help streamline the entire customer lifecycle for your agency.