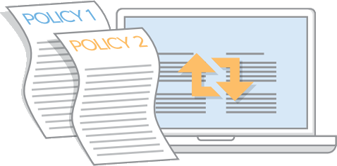 Every once in a while an innovation comes along that makes what was once an arduous, time-consuming task so absurdly simple that it's hard to believe someone didn't think of it sooner. EZLynx Policy Compare and EZLynx Policy Sync are two such innovations, and if you use EZLynx Management System, you've already got them!
EZLynx Policy Compare
Our Policy Compare feature makes it easy to respond to your customers when they call with that all too familiar question, "Why did my premium go up?"
Now you can quickly compare two versions of a policy – the expired policy and the renewal – side-by-side and see which coverages went up, exactly how much, and why.
No more searching for explanations and possibly losing the confidence of your customers. Policy Sync works seamlessly for both Personal and Commercial lines, and it's a great example of how a seemingly small feature can make a big impact on your agency's retention numbers.
EZLynx Policy Sync
Customers often want a new quote at renewal time to see if they can get a better premium. At this point, it's very important that your rating application is up-to-date before you attempt to remarket.
EZLynx Policy Sync makes this as easy as one-two-three. Simply locate the policy in EZLynx, which is the most current risk information, then select Sync. The system will automatically identify the differences so you can quickly update and re-quote.
Saving time with servicing tasks like these gives you more time to sell new business, which ultimately increases your agency's success.