Highlights
Enhanced Email Campaign List Builder
Retention Center – Branch Support
EZLynx Mobile Improvements
Interested in BETA testing? Click Here
Leverage EZLynx Reporting for your Email Marketing Campaigns
Get ready for our upcoming update to EZLynx Email Campaigns in the next few weeks, which includes a completely renovated process for segmenting your existing data for bulk email blasts.
We have been very pleased with the extensive enhancements that have been made so far this year to EZLynx Reporting; so much so that we felt the power of our reporting engine far outstripped our separate email campaign list builder.
As a result, this upcoming update will replace the existing list builder with Saved Reports from EZLynx Reporting. Take advantage of the powerful capabilities of our reporting engine to segment your data using both simple or highly complex filters. Once you have saved the report, it will be available for you to use within EZLynx Email Campaigns, which is part of our Communication Center bundle.
When you start a new campaign, your first step will be to name the campaign and select your recipients. You will be able to manually add individual recipients, select from your available Saved Reports, or choose from one of your static lists that you may have created from within EZLynx Retention Center or from the old list builder tool.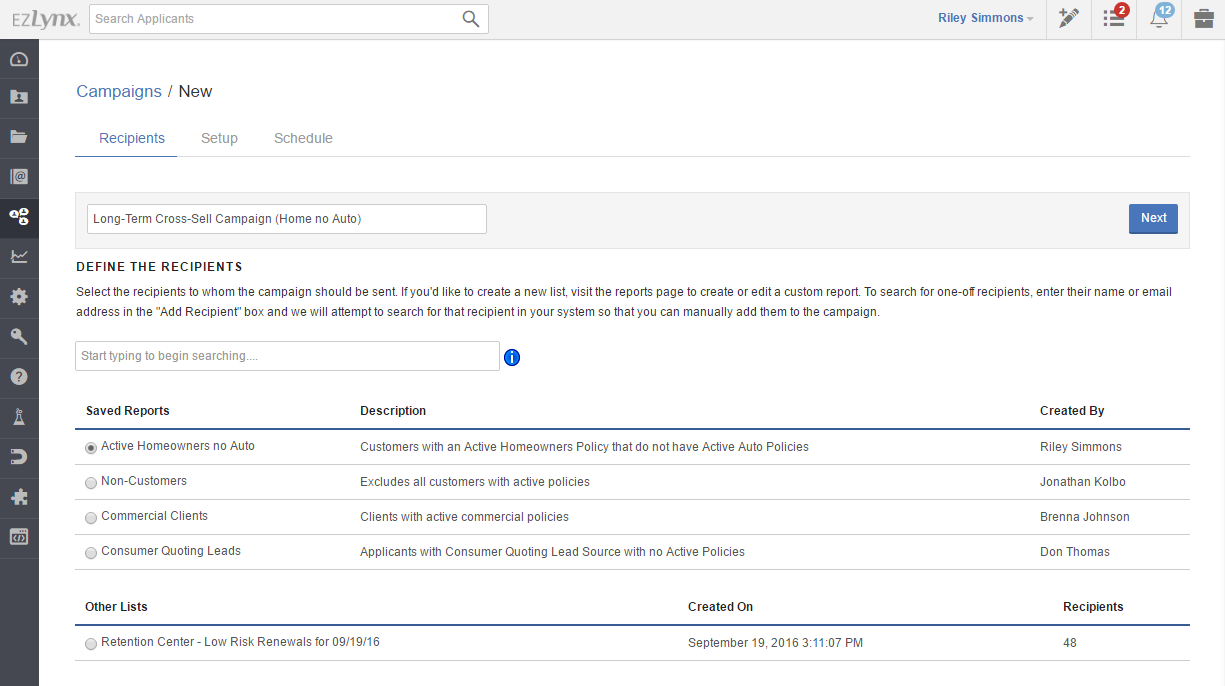 Your old lists will still be available to use, but any new or future lists will have to be created from within EZLynx Reporting as a Saved Report.
By making it possible to use our reporting engine to segment your data for Email Campaigns, we have brought a new level of accuracy to your email marketing. We are also excited about the new possibilities it brings, as there are many more filter options available in EZLynx Reporting than we had in our previous list builder.
This Update is Only the Beginning
While this update allows you to use your Saved Reports for campaigns, those campaigns are still using a static version of the report at the time you scheduled the campaign.  While not a big deal for short-term campaigns that are sent immediately, if your campaign has steps that are scheduled throughout the year, your list could get seriously out of date by the time the campaign finishes.
This has always been a problem for any email campaign service that relies on saved or uploaded lists, but we are excited to announce that our Email Campaigns update later this year is going to take your static lists and make them dynamic, allowing you to run Drip Campaigns using your Saved Reports and have those campaigns automatically update in real time before each email is sent.
Imagine being able to have a campaign that sends an email to your prospects every 3 months and automatically removes those recipients that become customers as a result. Schedule a recurring, long-term cross-sell campaign to all your customers that have an active homeowners policy but no auto policy and rest easy knowing that our system will automatically add or remove recipients to the campaign based on whether or not they still meet that criteria. The possibilities are endless, and this is just one of several very exciting enhancements planned for EZLynx Communication Center this year!
Retention Center is now available for branch organizations!
EZLynx Retention Center addresses the daunting task of renewal management. With Retention Center, you no longer wait for your customer to call and complain about rate hikes at renewal. Instead, our system will identify on a daily basis those customers that you are most at risk of losing so that you can focus your efforts in the right place. Building on the EZLynx Policy Compare feature, the Retention Center analyzes your customers' policy information, so you can proactively communicate your recommendations – reinforcing your agency's value.
Click HERE to learn more about Retention Center!
Additional Updates
EZLynx Mobile Improvements for tasks, text messages, and documents
Outlook Plugin updated to support additional special characters
Policy Transactions searching and matching logic improved
Improved reports navigation
Be on the lookout for exciting NEW beta features on the way for reports and documents over the next few months!