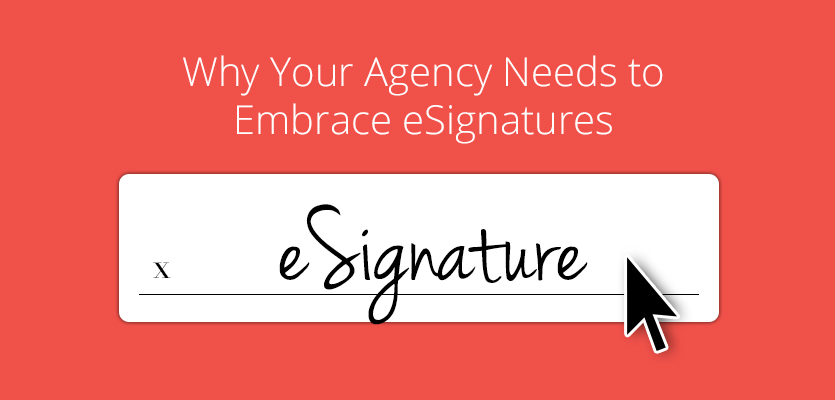 Selling insurance can be very rewarding, knowing you're providing men and women with the peace of mind they need to live their lives with greater confidence and security.
But it does pose challenges, especially with regard to productivity. Insurance sales require a significant amount of data entry, both for gathering rates and for finalizing policy agreements. That's why agencies, carriers and agents are on a seemingly endless quest for ways to do business better, smarter and faster — in short, more productively.
Fortunately, technology has provided several solutions. There are many examples — some good, some not-so-good, and some that are so helpful, they can significantly increase your agency's productivity and, ultimately, its bottom line. One great and simple solution is eSignature.
eSignature: The "next big thing" is here
One of the most recent innovative and potentially industry-changing developments is the adoption of eSignature. Why? There are lots of reasons; topping the list: eSignature reduces paperwork, significantly cuts down on turnaround time, streamlines agencies' practices and workloads, and — and this is a big one — it is beloved by clients.
If you've been considering adopting eSignatures in your agency but you're not sure if it's the right choice for you, here are four primary benefits you should be considering:
It saves resources. Obviously, virtual documents cut down on paper waste, and they even reduce your carbon footprint by cutting down on the amount of mail that needs to be delivered by fuel-consuming vehicles. But beyond those physical resources, eSignatures save a considerable amount of time; some agencies have reported reductions of as much as two weeks in turnaround time simply by adopting eSignatures as part of their regular routine.
It increases productivity. Case studies indicate eSignatures can save millions of dollars in paper-related expenses, boost productivity by more than 60 percent and significantly reduce errors as well. Plus, because the process saves time, it also leaves more time for connecting with new customers and learning about new products that can suit your customers' needs.
It offers added security. There are no paper forms to get lost in the mail, no faxes that can be misfiled or wind up in the wrong hands. Plus, by automatically importing signatures to customer files, eSignatures provide a verifiable audit trail to decrease the risk of errors and omissions and provide extra security for you and your customers.
It makes your customers happy. Let's face it: Customers crave convenience. If they have to remember to sign a document and send it back by mail, they're more likely to procrastinate — maybe even have second thoughts. Waiting for customers to sign and return documents is one of the primary bottlenecks in insurance sales, causing delays that affect your revenue as well as your customers' security and peace of mind. eSignatures allow customers to sign right away using their computer or mobile device as soon as a document is emailed to them, so they can send it back to your office immediately. That's a boon to your agency and your customers — and there's an added bonus: More convenience means greater customer satisfaction, and that can even result in more referrals coming your way.
But is it legal?
The short and definitive answer is absolutely. In fact, federal law says eSignatures are just as valid and legally enforceable as traditional written signatures, and there are dozens of state laws that concur. In fact, Congress considers eSignatures so important, it actually memorialized the day the federal law was signed: June 30 is now known as National ESIGN Day (yes, it's a thing – PDF).
The insurance industry is always evolving; new challenges are constantly cropping up. Adopting and adapting to new efficiency-enhancing technology is one of the smartest things your agency can do to make sure it stays competitive, both now and in the future.
As part of its ongoing commitment to helping agents and agencies increase productivity and boost efficiency, insurance solutions provider EZLynx is leading the way in adaptive eSignature solutions by providing an integrated system that enables agents to send off action items with just a few clicks. EZLynx's eSignature system uses a two-part authentication process that conforms to both the Electronic Signatures in Global & National Commerce Act (ESIGN) and the Uniform Electronic Transactions Act (UETA).
If you're interested in learning more about how eSignature can help your agency do business better, give EZLynx a call toll-free at 877-932-2382 or sign up for a free 10-day trial of EZLynx Rating Engine and see how an all-in-one platform for Rating, Management System, and more can help streamline your agency.